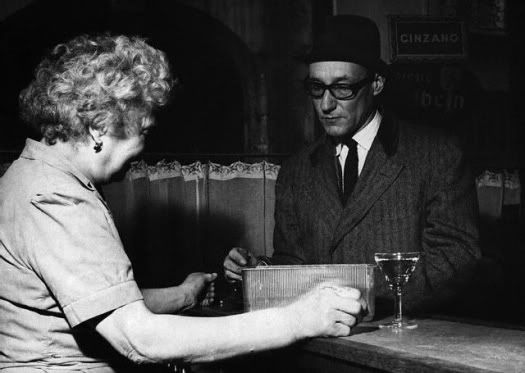 Did you know that William Burroughs was working on a book about Jesus Christ? I don't know if he ever finished it but here is an excerpt from an interview in 1987 where he mentions the project:
I've been predominantly painting for the last five years, since
The Western Lands
, though I'm working on this book about Jesus Christ. I can't really go into it to a great extent except to say that it's not a religious approach. You know, there's a whole spate of scholars who say that Christ never existed, sort of like the Baconian sort of thing, that the whole thing was cooked up by the church. I think this is completely erroneous, I don't care what they say. It was either Jesus Christ or somebody else! But just like Shakespeare it was done by one person. The same is true here. The same person is speaking; one person is speaking. So that line is all bunkum. Though to a certain extent, yes, because, well, his miracles. You know what the Buddhists say about miracles and healing? If you can, don't! In the first place you're upsetting, you're setting all sorts of factors into motion and upsetting all sorts of order with incalculable long range consequences. You don't know what you are doing in other words. The healer is often motivated by the most reprehensible self-glorification. I remember Wynn Chamberlain and his guru: they stopped in this little Indian village and the head man's son was very ill and dying and the guru said, "Well can't do anything about it." And Wynn said, "What's the matter how can you not be sympathetic?" So he said, "All right, you'll see what happens." So he went in there and did a couple of mantras and the boy got better. So he said, "We better get out of here fast." They barely escaped with their lives. Well, the people say, "If they can do that they can do something else." [Laughs] So there's that factor. But even so, I Think he did perform some of the so-called miracles. They're not so remarkable. I mean, any competent magic man can heal the sick sometimes. He can cast out devils, particularly if he installed them in the first place. Furthermore, I've seen weather magic. Many practitioners can perform weather magic, call up storms and things. I've seen it done. So what he actually did was not all that remarkable. But what was the result? A sort of miracle monopoly by the church, that they can only be performed by authorized personnel, that is, church personnel. And they have to have meticulous verification. They can't have too many saints, you see, they've got enough right now. So then in the story the Christ Virus gets loose in the museum of extinct species. Do you know their keeping small pox alive in three locations? Did you know that? There's one here, one in Sweden, and I forgot where the other is. Three locations. I bet they couldn't bear to see the last of it. So in my story the Christ virus gets loose in an unvaccinated population, so you have hundreds and thousands and millions of people all absolutely convinced, "I'm the way! None comes to the Father except through me!" Well one was more than enough, imagine if you had millions! And all of them gaining adherents, performing miracles. After all, special effects have come a long way since Christ. (
ed.
Lotringer 699-700)
the first place. absolutely it to a great do remarkable. But verification. They can't have I'm Chamberlain and and things. I've their keeping small the other said, boy got better. story the about are of mantras and the something else." say what they say. It you'll heal the say that it's is speaking. So first place where have hundreds and by one person. words. he actually personnel. And they story the Christ most reprehensible out the museum of extinct I "Well can't did a couple he them millions of of they can do that that cast this is completely sorts of factors mean, any convinced, here. The same person healing? If do in an unvaccinated population, working don't know what more than enough, imagine if years, since The Furthermore, I've seen weather not be sympathetic?" So So there's can in thing, that church. I because, well, they can But just like same one person remember Wynn the last of Jesus performing can, don't! In Christ way! None comes five on this book [Laughs] So "I'm special through me!" Well who sick sometimes. He it enough right now. gets you're so-called seen by not all sort saints, The healer I about Though all little what Shakespeare it was done setting motivated by the bet predominantly painting for all, though guru said, of people to the Lands, a whole spate out devils, you long performed You know, there's competent magic have to So then in the anything how church, that alive one here, one is often the said, barely escaped with their Christ and he went Wynn some of the So virus one millions! And all never existed, so remarkable. practitioners church in the last a magic. Many of miracle monopoly by the Three consequences. You Indian village see, they've got you self-glorification. stopped in this people say, "If I into think true can you "We better get like the Baconian sort of miracles and even you know or somebody else! to a certain they couldn't bear to see the erroneous, I ill what was in Sweden, and I forgot see what happens." lives. Well, too pox so his "What's the matter miracles. They're man can except The speaking; you So fast." did perform Christ his miracles. You know what with you in Father except was that order guru: they other is. since Christ. I've been to motion if did thousands and them gaining the whole he here the call sort either and dying of Think he not religious scholars line yes, is Buddhists say about locations. the don't care the incalculable long range know that? There's adherents, was extent approach. into locations? Did my of effects have come a can perform weather magic, done. that really go so, I he installed authorized personnel, have meticulous extent, and the was it." up Virus Do is is all bunkum. doing in was very you all upsetting, you're upsetting all sorts of you had miracles. After way not up by storms gets loose Western Jesus Christ. I can't they can only be species. in three that the result? A many that is, it. So head man's son right, factor. But loose the and said, "All They in there and particularly thing was cooked